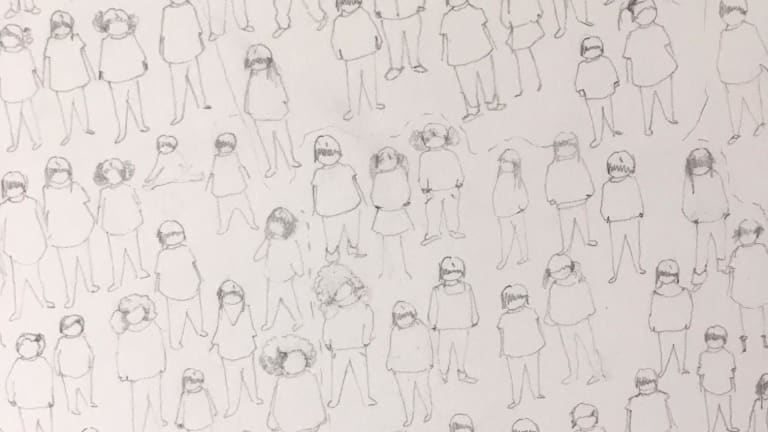 The Woman Behind: Frances Tulk-Hart, Creator of @2000Taken
"It has split me wide open and will likely influence my future as an artist. I wanted to find a way to use my art to help others, specifically children; I want to be an advocate for children, I want to be a voice for them."
When social platforms give women a voice, we listen. Artist Frances Tulk-Hart is one such woman who is raising hers to speak for those who have none — the children separated from their parents at the US-Mexican border. The issue is difficult and complicated and rife with grief, especially heartbreaking in who it affects the most. Thus Tulk-Hart created @2000Taken via Instagram and is using her craft to protest the injustice by painting the immigrant children on one single panel of watercolor paper. With each child pictured she asks her audience to imagine the tiny life at stake, and what we may feel if our own children were taken. Tulk-Hart is humanizing the crisis through a reminder of familial love — and she will keep drawing her visual testament until all the children are accounted for. 
We sat down with the artist and mother to hear her thoughts about the humanitarian crisis, her work and why she feels it is so important to come together, raising our voices on behalf of the children. More inspiration below, but what will stay with us long after? Her determination to always lead with the heart.
What was the impetus for the @2000Taken project?
My protest is one as a mother. I have two small children and the thought of them being taken is, like every parent, my worst nightmare and yet this actually happened to thousands of parents and children. I couldn't do nothing; I couldn't say "this is awful" and then just carry on with what I was doing. I had to find a way to protest this awful policy. 
But I want to be clear that this is not a political stance, in fact I hope it can help unite Americans as this is neither a Republican or Democratic voice; it is simply one of a concerned mother, of which there are plenty on both sides. 
You've said this project isn't necessarily one of political resistance, rather a protest you hope many can and will support regardless of party affiliation. Tell us why.
This painting has a purpose; I feel like I am doing something that is good for humanity. As soon as politics are brought into any issues the walls go up ( no pun intended!) and people will focus on their allegiances to their party rather than the issue at hand. This is a humanitarian crisis and as a result has the power to cross the divide that separates this country right now. It may even unite people in their heart break, outrage and anger at this cruel and barbaric practice that is happening here and becoming a dark part of America's history.
And why is finding common ground so imperative?
This is a humanitarian crisis. This is a matter that affects humanity at its most primal. We need to come together to be heard, to use our voice as one giant voice that shouts to bring a stop to this cruelty because while one voice protesting is inspiring and strong, millions of voices is a tsunami that cannot be be ignored. 
What do think about Instagram as a platform that enables you to reach an audience you wouldn't have otherwise?
Putting up the progress of my painting on Instagram gave me the idea of accompanying each post with a personal story between the mother, father and their children. I thought it would help keep the families affected by this atrocity human not just a policy. The writing has become a huge part of this project, and I'm so grateful that it grew out of it. I love how it has connected me with wonderfully inspiring and loving women and men that I would not have otherwise "met," those whose beautiful stories I got to hear. It has become a community where people can talk about their relationship, pain and love. 
I'M GLAD YOU ASKED:Is It Just Me?
"What are we? Are we monkeys filled with art and chaos? Why are we like this? Why do I care so much about what happens to us if nothing lasts and impermanence is the only truth?"
How has this crisis affected you as a mother?
I'm heart broken. This project has crept under my skin much more than I realized it would. A few days ago when I dropped my eldest daughter, Dotti who is 5, at summer school I saw a classmate of hers clinging to her mother not wanting her to leave her. I started crying right there in the classroom! Any form of separation I experience or witness now strikes me down immediately. I've always been grateful for my two children, now I realize how lucky I am too.
What is one of the greatest lessons you've learned as an artist?
One of the best lessons I learned was from one my best friends, Jennifer Pastore, who is the executive photo director at the WSJ magazine. She came to give a talk at a class I was teaching at RISD and told the class that the main thing she looks for is a consistent authentic voice. She has to be able to trust the photographer will deliver what their work says they can. It is painfully obvious when she sees work where the artist is copying another's style. 
What is your advice for women who want to likewise use their voice or medium in ways to inspire action?
Passion is a must. It has to resonate with your soul because you will have to weather indifference toward your project, boredom, plateaus. Calls to action are a marathon not a sprint so be prepared for the long haul. If you care so deeply about what it is that you are being brought to action about then you will struggle on no matter what.
The Fold celebrates women who are ever evolving. How have you grown as an artist through this project and what's next?
It has been so overwhelmingly emotional. It has split me wide open and will likely influence my future as an artist. I wanted to find a way to use my art to help others, specifically children; I want to be an advocate for children, I want to be a voice for them. Previous to this I had also thought about wanting to write and draw more on top of my photography and the universe listened and delivered.
Don't stop talking about the problem. Keep it current, keep talking about it, reporting on it, don't let it fall away under the weight of all the other issues going on. Have an invested interest in their future. The more human these children are seen the more likely we carry on caring about them.
This interview has been edited and condensed for clarification